Michigan Conference of the UMC Responds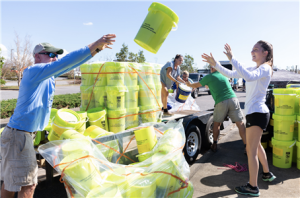 Hurricanes Fiona and Ian have caused catastrophic damage to Puerto Rico, Florida, and other parts of the southeastern United States. In response, Michigan United Methodists are called to pray, donate cleaning kits (flood buckets), and give financially to the United Methodist Committee on Relief (UMCOR).
There are three ways Michigan United Methodists can respond: pray, prepare cleaning kits, and give cash donations to aid relief. UMCOR and its local partners have been hard at work preparing for storm response and recovery. Supplies will be sent to Puerto Rico, Florida, South Carolina, and other areas impacted by these storms to address immediate needs.
Churches and individuals can financially support the work of UMCOR and its local partners by giving to UMCOR U.S. Disaster Response and Recovery fund (Advance #901670). Money donated through this advance will assist recovery in all areas, including Puerto Rico.
Checks can be mailed to the Treasurer at Michigan Conference Center North, 1161 E. Clark Rd., Ste. 212, DeWitt, MI 48820. Add "General Advance #901670" on the memo line.
Individuals wishing to give online can do so through this secure link.
For more information please follow this link:  HURRICANE RELIEF